i wish this thread hadn't died, there's so much interesting stuff here already but so much is also missing... it should have almost as many pages as lanalysis, since it gives us so much insight into lana's interests & consequently her as a person imo.

anyway, trying to revive this with some NFR related content, i guess...

Robert Frost's poem "Nothing Gold Can Stay" - possibly via The Outsiders too? this part is obv speculation, but it seems like the kind of thing she'd like & reference
Slim Aarons & his photos of celebrities, socialites and luxurious/ostentatious lifestyles in general; he's also noted for the poolside setting of many of this photos.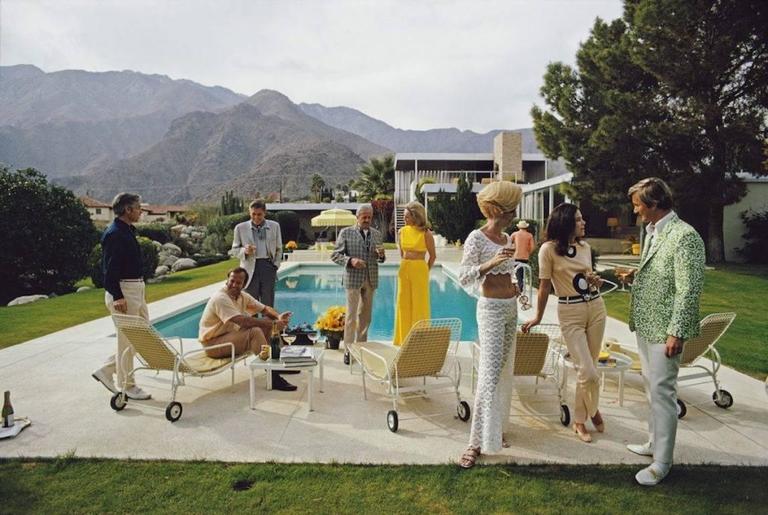 Sylvia Plath, ofc. namely this poem which references stumbling from bed in a victorian nightgown (ty Genius.com)
now indulge me for a sec - and i honestly KNOW this is prob a stretch, but i was just having too much trying to connect the dots to not at least mention it: in How To Disappear, she mentions a John, a Jim, leaving NYC for California, a kid, California sun & movie stars. if it weren't for John & the kid, i would've just chalked it all down as regular Lana themes and imagery. BUT those 2 things made me wonder, and suddenly it all clicked: Joan Didion.

- i mean, she's THE iconic Cali writer and in another post i & Trash Magic wondered whether Lana had been inspired by Didion's famous Corvette photoshoot for the UV cover and promo pics

- anyone's who's watched the critically acclaimed "The Center Will Not Hold" Netflix doc knows Didion (a NorCal native) lived in NYC for a few years and then moved back to California - this happened after one morning she started crying out of nowhere while having breakfast with her husband John Gregory Dunne ("John met me down at the boulevard / I cried on his shoulder 'cause life is hard /

The waves came in over my head

") and he quickly realized that she missed Cali and both decided it was time to leave NYC (

Well now, it's been years since I left New York

); Didion's also a noted anxious-depressive.

- she's known for having written an essay about Jim Morrison & The Doors recording at a studio in Sunset Blvd; she was already there when Jim arrived, late & presumably high; the band then stayed there a long time and the album they were recording took weeks to finish (

Jim met me down at the training yard

(training yard = metaphor for a studio?)

(...) And I watched the guys getting high as they fight / For the things that they hold dear).

- now the really bizarre part for a Lana song: "'I've got a kid and two cats in the yard" - guess who had a kid? Didion, who adopted a girl around that same time and moved from HW to a big house in Malibu. no idea about the 2 cats, tho.

- also: "The California sun and the movie stars / And I watched the skies getting light as I write

/ As I think about those years" -

Didion & her husband were screenplay writers and frequently had movie stars in their house; also Didion, beyond writing personal essays, also wrote at least 2 memoirs about her life so she'd def write "while thinking about those years")



ok so tl;dr: i don't think the song is about Didion, but i think it could be inspired by certain facts of her life that Lana might identify with or relate to (after all, she also went from NYC to LA, has a dark temperament, lives or lived in Malibu, considers herself a writer & is obsessed with a lot of the themes Didion dealt with in her writing). now call me delusional or inspired, but lemme hear your thoughts!!!

edit:

BONUS 1


BONUS 2