25 people so far have been wounded in a blast in New York City, officials say.
Fire trucks and ambulances converged on the scene after what witnesses described as a "deafening" explosion in the Chelsea district of Manhattan around 21:00 (01:00 GMT on Sunday).At least three people were taken away from the scene in ambulances, Reuters news agency reported.FBI and Homeland Security officials are at the scene, a local official told US media.The explosion comes just hours after a pipe bomb exploded in a New Jersey town, shortly before thousands of runners were to participate in a charity race nearby. No injuries were reported in the New Jersey blast.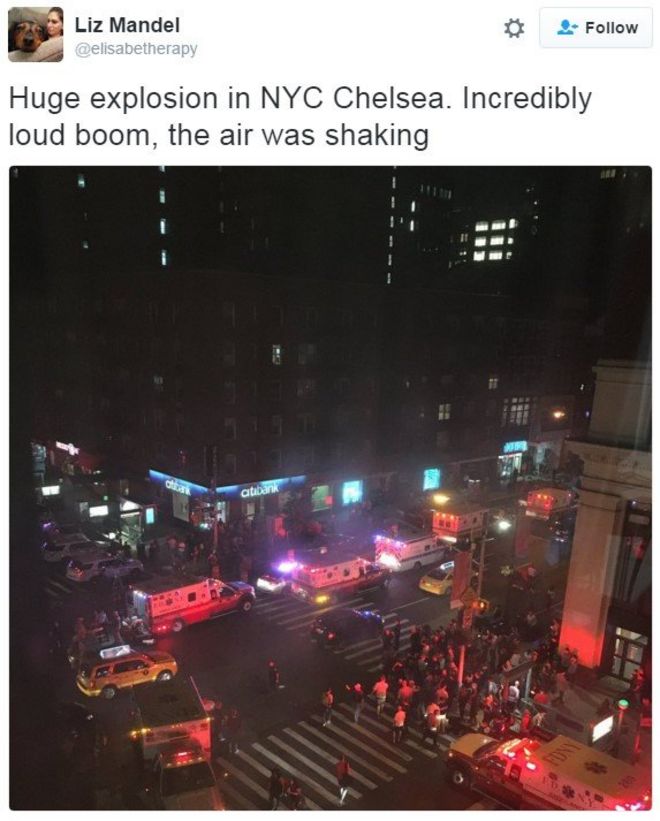 http://www.bbc.co.uk...canada-37399592
I must state that its not known if this is an act of terrorism as of yet or a hate crime.There are photos of a dumpster blown apart. Earlier today pipe bombs went off at charity 5K marathon for U.S. marines that were planted in garbage bins. No one knows if its connected.
Stay safe
and I hope there's not any casualties...
Here's a link to a video of first few seconds after the explosion. Do not worry its not graphic in anyway
https://twitter.com/...308226916327425